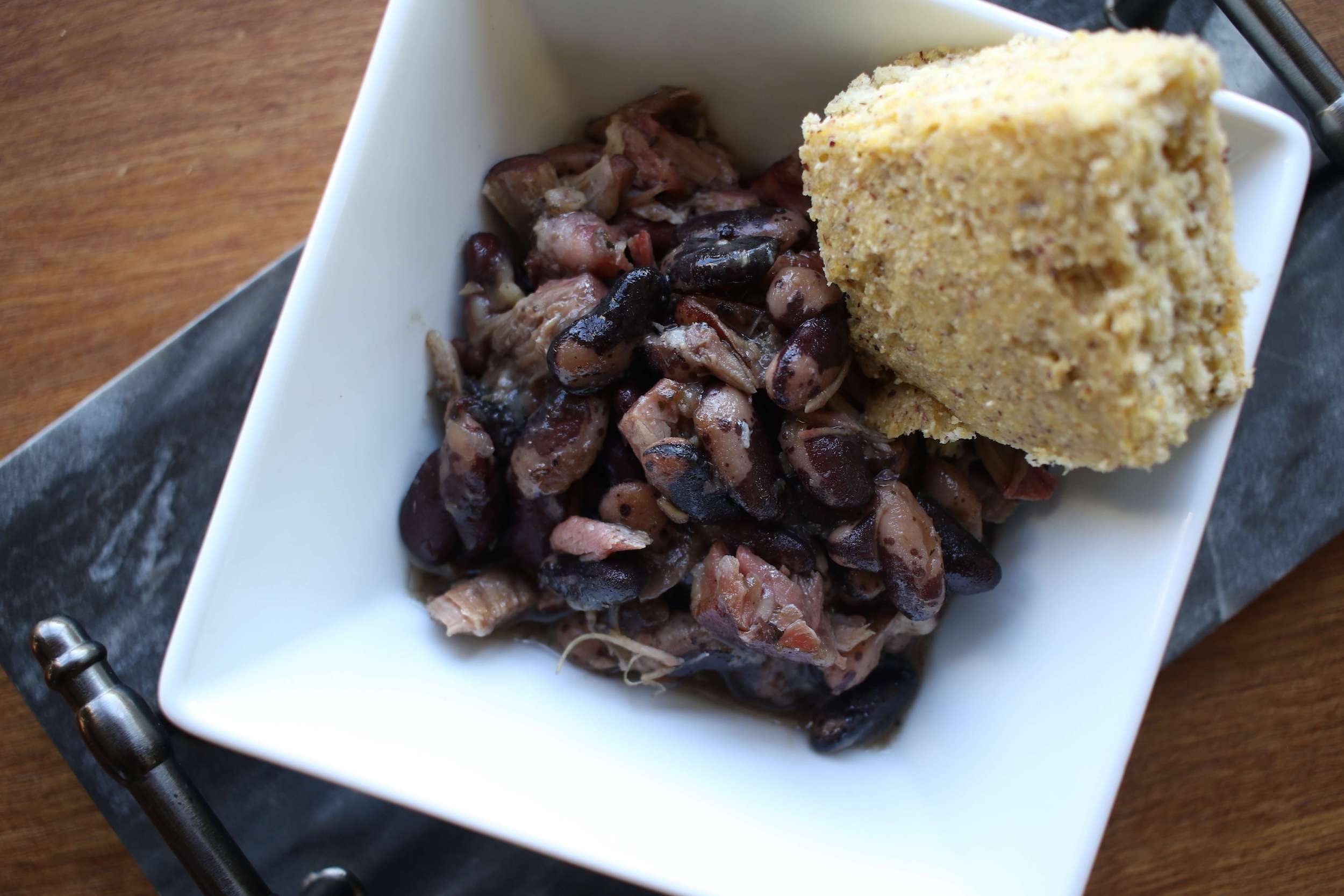 Have you noticed how popular local food is right now? We sure have. Our on-farm store is busier than ever, and the markets that have remained open are, too. We are so grateful for you!
A local food system only works if there are willing participants on both side—farmers and eaters. We love buying what we need (and don't raise) from other farmers who care about the soil and the plants and the animals and the future—and we're glad this is important to you, too.
If your life is anything like mine, you're cooking more than ever. And you're probably gravitating towards comfort food—especially on these cold not-spring days. I'd like to share a favorite recipe with you that calls for our Jacob's Cattle Beans and maybe that leftover ham bone from Easter dinner that you wisely tossed in the freezer. Don't eat meat? That's fine! Just leave it out of the recipe, and maybe add some smoky flavoring to compensate.
Ingredients
2 c. dry Jacob's Cattle or Hidatsa Red beans (about 3/4 lbs.)
1 medium onion, chopped
1 bay leaf
1 tsp. garlic powder or a couple cloves of fresh garlic, minced
1 tsp. salt
1/2 tsp. each black pepper, dried thyme, dried basil and dried parsley
1/4 tsp. cayenne pepper
1 ham hook or ham bone or 1 lb. link sausage cut in chunks
Instructions
Soak beans (see package directions), drain and place in a 5 or 6-quart pot. Add the onion, meat, 3 c. water and the spices. Bring to a boil, reduce the heat, and simmer gently for 1-2 hours, or until the beans are tender. if using a hock or bone, remove and add any meat back to the beans and discard the bone. Remove the bay leaf and keep the beans warm. Prepare rice and ladle beans over rice. Serve with hot sauce, if desired. May be served over cornbread instead of rice.
https://shadysidefarm.com/2020/05/06/comfort-food-worth-cooking-red-beans-and-rice/
Copyright Shady Side Farm 2020